Kyle and I have a football Sunday ritual, we go to our favorite sports bar (cheap plug in hopes of free beer: Rt. 10 Sportz Bar in East Hanover, NJ) because they have NFL Sunday Ticket and we can watch both the Saints and Rams. This can sometimes cause a problem: usually, we're out on Saturday night, so we're already not in the primest shape. And if the Saints and Rams are on at different times, as was the case yesterday, we stay at the bar from 1-7 or so. That's a lot longer than anyone should spend a Sunday afternoon in a bar, especially when the sun sets early and daylight is at a premium. Still, we want to watch our teams, so it's the sacrifice we make.
Well, some days it just doesn't seem worth it, and yesterday was one of those days.
The Saints played an absolutely pitiful game coming off of the bye. I don't want to get into how the game went, as I'd like to forget those three or so hours ever happened. But you can read my feelings about it at the FanHouse. Let's just say it wasn't fun to endure.
As for Kyle and the Rams, they didn't fare much better either. Stephen Davis' fumble was the turning point and LaDainian Tomlinson played the role of...well...LaDainian Tomlinson, and the Chargers beat the Rams pretty handily as well. Six hours of misery, for nothing.
But all is not lost, turns out we had a fun Saturday night out at a Halloween party. And because we appreciate your patronage at the Out Route so much, we're offering this: pictures of Kyle and I in our costumes. Feel blessed, this isn't something we're typically wont to do.
Here's me as Borat: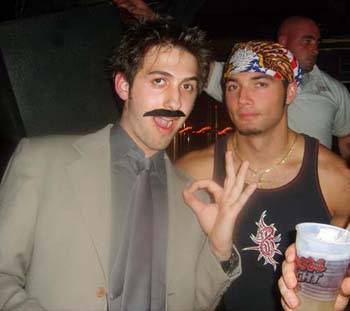 And Kyle as Jack Daniels: