All is well. A few days ago, with the Devils staring down the barrel of a 2-1 series deficit, looked dead in the water. Martin Brodeur was off his game, the offense couldn't outwork the Lightning forecheck, and Vincent Lecavalier did just about everything short of actually punching me in the throat.
But things changed. To quote Chris Cornell: "I think it's turnin' back around / And I think I like it." The Devils have won two in a row, and seek to eliminate Tampa in front of their own sniveling, pathetic little fans tomorrow (Sunday) afternoon. (True story: Last night, driving in a lovely little town known as Nutley, NJ [as seen on The Sopranos], I saw a teenage male waiting to cross the street with company of mixed gender. He was wearing a Lightning jersey. I promptly stopped, rolled down the window, and told him, in essence, what I thought of his choice of allegiance. I'm not above belittling boys if they pose an affront to my Devils.)
Last night, down 3-0 with under two minutes left in the game, Lightning coach John Tortorella ordered his henchmen onto the ice to run every little guy the Devils have. It was cheap hockey. If you want your big guys to make a statement on the ice, do it against the other team's big guys. That's the code.
ANYWAY, you're here for playoff beards, not playoff ruminations. Mine is coming along swimmingly, I suppose, though a competition far more intense than the one on the ice is taking place. It seems my neckbeard is not one to take lightly. It's making a serious effort to overshadow the rest of my facial hair, and it's doing a pretty good job. It's like I have a full beard, but it needs to be pulled up about 3 inches.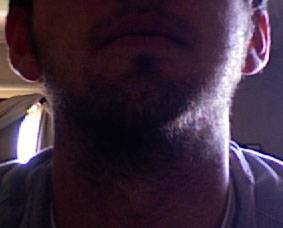 I thought about shaving my face and just letting my neckbeard grow, but my goal all along was to do the grizzly man look. Nothing gets shaven. The beard isn't spreading much but is getting thicker, which is nice. I'm at the "Ryan Gosling in Half Nelson" point right now.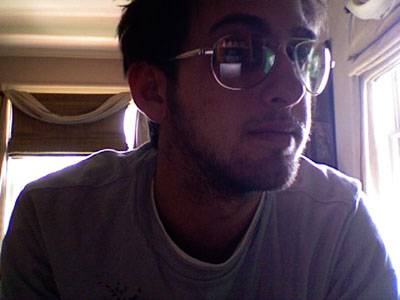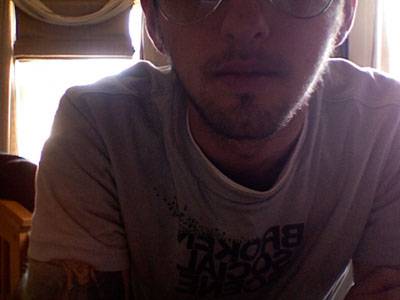 (Cheap plug for Broken Social Scene).
As far as the Devils are concerned, frankly, I'm disappointed. As far as I can tell, Jay Pandolfo is the only player ponying up to the challenge. As you can see in that picture, Zach Parise (#9, background) and Travis Zajac (#19, foreground) are probably still prepubescent. That is to say, they're younger than me, and are probably too baby-faced. Brian Gionta has an awful little goatee that could have been penciled on for all I know. Other than that, smooth faces all around. I know it's just the first round, but c'mon guys. I expect more of you than that.