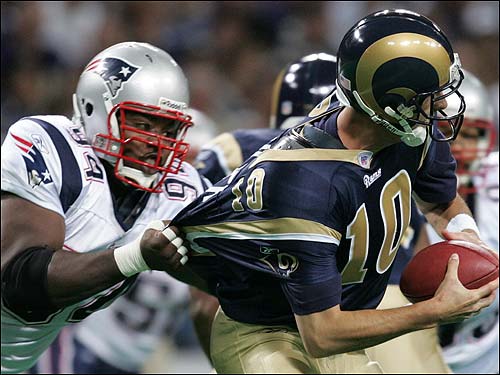 I'm a Rams fan. Unfortunately, I haven't really had the chance to write about my team here since they've been the definition of obscurity since Week 6. Fans of other teams see their team is playing the Rams and say "Oh, that'll be a win." And it's true.
I was pumped this offseason when the Rams hired Scott Linehan, a former offensive coordinator, for the head coaching job. He seemed like a confident, drama-free, no-nonsense kind of guy -- basically the opposite of former coach Mike Martz, who took all the heat for the Rams' woes the last few years.
Then they went ahead and hired former Saints head coach Jim Haslett as defensive coordinator. I was skeptical at first. Having talked to Tom for all those years when Haslett was the Saints head coach, hearing him bash him, and seeing the effigy of him that he constantly burned, I was worried. However, early in the season, the Rams defense had an excellent turnover margin which was responsible for some early season wins. It was already apparent the that the Rams couldn't get many stops, though. They just got key stops, lucky stops, which was hiding their defenses ineptitude.
Now, the truth is out. The Rams are no better than they were last year. In fact, they're worse. Their defense, which was almost dead last against the rush last year is looking to claim dead last this year. They've made some no-name guys look like stars. Ever hear of Noah Herron? Me neither. Until he rushed for 106 yards against the Rams as a backup for the Packers.
Last year, their special teams couldn't return for shit, but they sure let other teams run all over them. If you saw Monday Night Football against the Bears, you may have noticed the erection that return stud Devon Hester had on the sideline in anticipation on facing the Rams special teams unit? That hard-on was warranted. He ate them up for two -- count them two! -- special teams touchdowns.
There's a problem here, and maybe it's something that coaching can't fix. Sure, you have to give an entirely new coaching staff at least 2 to 3 years to turn a team around. However, the offense hasn't really changed since they've been good. Marc Bulger is a good quarterback, Jackson is a young stud at running back, and Torry Holt is one of the best receivers in the league. The loss of Orlando Pace at left tackle sure hurt, and they have a guy playing center who hasn't done it since college -- Richie Incognito, the coolest name in sports. It shows, since Bulger is on track to be the most sacked quarterback in the league. In fact, he got so fed up he called out his teammates, an act unheard from a guy like Bulger.
Defensively they need a lot of work. They have no pressure on the defensive line except for Leonard Little. But the additions of Fahkir Brown, Will Witherspoon, and Corey Chavous should have helped the defense. They didn't. I suppose Haslett needs some time, but I'm already prepared to throw him out on his ass.
This summer, I was worried about the front office. These guys feuded with Mike Martz constantly and somehow pinned the entire blame of the poor seasons on him. However, when they cut guys after the season, some of those guys came out and said that the front office did not handle it well. Some guys didn't know they were cut until it was reported on the news. And with Martz gone and the team still in a state of disarray, maybe he wasn't as big of a problem as they spun it.
I still like Scott Linehan, and I'll be upset if he's just a footnote in Rams history. Something needs to be done next offseason, and it needs to be done defensively. Haslett needs to turn things around soon or he'll be out of a coordinator job and he'll probably never coach in the NFL again. Reasonably, I'll give him another year to turn around a defense that was just horrible last year, but I hope Tom keeps his Haslett effigy nearby because I may soon be asking for it.