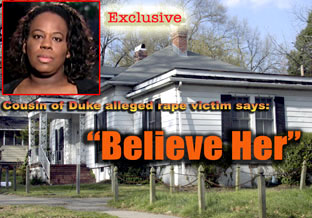 Remember that whole Duke rape thing? It was THE story of the world, both sporting and non-, and now finally it has breathed it's last, putrid, wimpering breath. Hopefully.
Prosecutors have dropped the rape charges against the three Duke students involved, though the charges of kidnap and sexual offense remain intact. But, you know, what's a little kidnapping and sexual offense? My motto's always been, "No rape? No problem."
So what exactly happened? Weren't those kids, like, definitely guilty? The accuser has changed her mind, apparently.
According to court papers filed Friday by district attorney Mike Nifong, the accuser told a prosecution investigator on Thursday that she now does not know if she was penetrated during the alleged attack.
Of course it's always tough to tell when someone has, you know, forced themselves inside of you. I can totally understand the confusion, especially all these months later. "Oops! You're right, guys, you didn't rape me. My mistake!"
The real crime of it? The sullied reputation of the accuser's cousin. That's what happens when you put your name on the line for family. But, hey, think of it this way: over-priviliged white kids get their way once again! Up top with an e-high five!