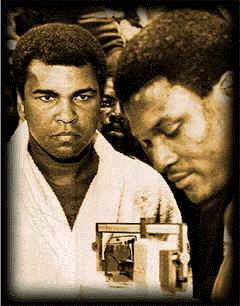 This weekend's death of Red Auerbach had basketball fans everywhere mourning the passing of a man who represented another era of basketball. But the Hall of Fame coach's death overshadowed the death of another athlete who, like Auerbach, represented another time in a sport struggling to find itself and desperately searching for another hero.
As the last person to fight Muhammed Ali and the first person to lose his title to Mike Tyson, Trevor Berbick was the bridge between two eras in boxing. He was found dead in a church courtyard Saturday with chop wounds to his head in a suspected homicide.
Berbick fought from 1976 to 2000, finishing with a 50-11-1 record, including 33 knockouts. In the years following his loss to Tyson, Berbick was beset with legal troubles and in 1992, he was deported from the United States. He eventually moved back to the U.S., but was deported a second time and finally ended up in the Bahamas.
His style was lumbering and heavy in the ring, often outmuscling his opponents and wearing them down through the sheer strength and weight of his grappling style. The in-close style proved fatal to his title when he met the notorious inside fighter Mike Tyson, who beat Berbick in 5:35 in the young fighter's HBO debut.
His age at the time of death is in dispute with reports putting him as young as 49 and as old as 56. Secretive about his age his entire career, Burbick was once quoted saying, "Legally, I'm a spirit," he once said. "I have no age."
As the basketball bestows honors and eulogies on the passing of their Golden Era's icon, the discontent and drifting world of boxing quietly nods as one of its own goes down for the count.