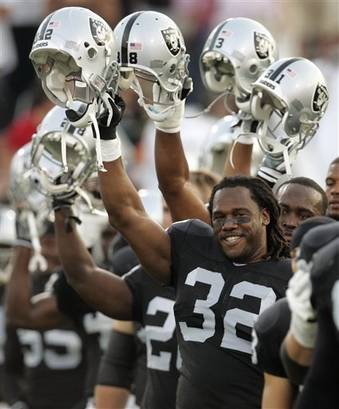 It was a release of ecstasy on par with...well, you know. Call it meaningless, call it an exhibition, whatever. I call it football. Here are some thoughts on the first weekend of the '06-'07 NFL season:
- The Raiders beat the Eagles yesterday, 16-10, in the Hall of Fame Game. We are of the poor, pathetic minority that cares about preseason football because it allows us the opportunity to analyze third-stringers and perennial practice squad fodder. And of course, I wanted to watch in particular to see how the Aaron Brooks era would begin in Oakland after he fleeced New Orleans for six years. We're happy to report: he still looks like Aaron Brooks. The Raiders' first drive: 3 plays, -2 yards. The second: 3 plays, -1 yard. The third: 12 yards, INT. The more things change...
- Donovan McNabb looked good in the first (and his only) series of the game last night, completing all three of his passes. Likewise, Brian Westbrook appears to have some legs back. But if he goes down this year, Ryan Moats won't miss a step. Kyle and I saw him last year in person as the Eagles played the Giants in Philly, and he ran absolutely buck-wild. Don't sleep on the Eagles this year. People underestimate exactly how much injuries affected their play. Every year there are "retribution" teams, who return to the playoffs after a year off, and the Eagles are a favorite in my mind to play that role. They've got as good of a chance as any of the other three teams in the NFC East to win the division.
- The Raiders defense will be much improved this year. They had a lot of problems tackling last night, but if they can rectify that before the regular season starts, they'll be OK. They're fast getting to the ball. With Art Shell's coaching, the defense can keep the team in some games. Just watch Aaron Brooks hand those games right back. He's the black, mobile Kerry Collins.
- Check out the new look NFL referees. The league switched the zebra stripes to a more mercurial design for the upcoming season. But they haven't found a way to make the refs full-time NFL employees yet. Go figure. As if refs didn't blow enough calls, a new set of rules has been set up to make their jobs even more impossible. The silent count rule supplies an even greater home field advantage, so teams better plan on winning their division. I don't like the trash-talk rule -- the heat of competition is what makes the players and game great. Between the rule against touchdown celebrations and this trash-talk rule, the NFL continues to sap all of its personality away. I understand keeping a lid on anything excessive, but I can't think of an instance last year that made me think trash-talking was really becoming a problem.
- The owners will convene during the next two days to elect a new commissioner. The smart money is on Roger Goodell, Paul Tagliabue's right hand man. Goodell has been considered the favorite since Tagliabue announced his retirement, and if all goes well he could be named the eventual successor as early as Tuesday night. But it's not quite a lock yet -- back in '89, Paul Tagliabue stole the commissionership from under the nose of Jim Finks and we all know how that turned out. Tagliabue has done an incredible job running the league and, on a slightly more personal note, did a lot to help New Orleans throughout the last year (that game against the Giants aside).
- The Hall of Fame induction Saturday was pleasant as always. The speeches probably could have been a tad shorter, but that's nitpicking. I'm sure you've heard enough about Reggie White over the last few days (not that he doesn't deserve everything that's been said about him), but I'd like to focus on John Madden's speech. First of all, when I found out Madden was inducted I thought it was his second entrance into the Hall, this time as a commentator. I had just assumed he was in as a coach already because, well, he's John Madden. The fact that it took 20-something years for him to be elected is a joke. But he's in now, and he even managed to ramp up the humanism on a day when there was no shortage of it. He deflected all praise off of himself and made all of his old Raiders players stand up and bask in applause, urging them to continue standing once they began to sit down. And then, in typical John Madden fashion, he proved how bat-shit nuts he is on Sunday night when he claimed in all seriousness that he was sure the busts in Canton not only spoke to each other, but played football once the Hall was empty. Mmmm mmmm, mescaline.