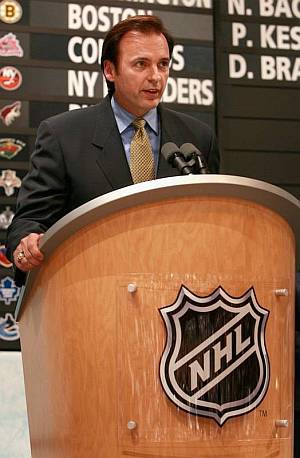 It wasn't a long stay in Long Island for recently hired Islanders GM Neil Smith. Smith, who was drafted by the Islanders as a player and then hired on June 8th after serving as GM to the New York Rangers from 1989-2000, is once again unemployed. TSN is reporting that he's been fired, although the reasoning is unsure.
The firing is obviously not hockey-related, as Smith only got to work the draft and first three weeks of free agency. He made a great, if not bold, decision in ending the blacklisting of Ted Nolan by hiring him as the Islanders' coach. He also signed defensemen Tom Poti and Brendan Witt and center Mike Sillinger, three valued free agents. Is it possible Smith knocked up Islanders' beat writer Alan Hahn, and now Smith's wife forced a departure to protect the family's best interests? Either way, aside from the slightly embarassing thing about being fired from the GM position before your team even takes the ice for preseason, Smith has nothing to feel bad about. Our personal motto -- the least amount of time you have to spend on Long Island, the better.
UPDATE: Smith has been replaced by Garth Snow, former Islanders goalie. Isles owner Charles Wang said the replacement was due to "philosophical differences." Right, and David Lee Roth leaving Van Halen was "amicable."