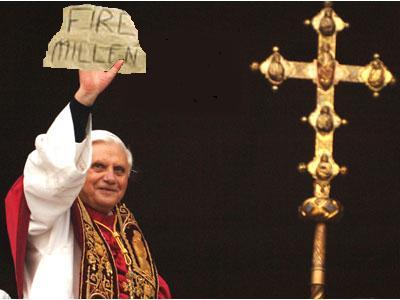 Baseball's no fun from now until September, and we can only watch old NFL highlights on YouTube for so long before we need to start prognosticating on the '06-'07 NFL season. Fall can't come soon enough. In the meantime, here's the 12th of our 32 team previews for the upcoming season, the Detroit Lions.
TOM'S TAKE: The Lions are a perfect example of how upheaving a coaching staff can have as much of an impact as overhauling a roster. Gone is the underwhelming Steve Mariucci, in his place at head coach is former Bucs defensive line/assistant coach Rod Marinelli. Marinelli will provide a shot of discipline to the team. He won't except the half-assing that's plagued the Lions every year since, well, ever. His coordinators are both high-profile as well -- Mike Martz won a Super Bowl as offensive coordinator for the Rams and took them to another as head coach. He's much better suited as a coordinator. Donnie Henderson, former defensive coordinator for the jets, took the same position with the Lions after being considered for a few head coaching vacancies. Each coach is well-respected at what they do.
Martz has a lot of progress to make, but a lot to work with. Disappointing patsy-boy Joey Harrington is gone; Jon Kitna, former starter for the Bengals, will take over. Kitna bears a resemblance to Kurt Warner -- brainy, poised, accurate, immobile. Backup Josh McCown has extensive experience starting for the Cardinals, and has performed well in spurts. He's still young and is very athletic. A great signing for a #2 quarterback. The biggest impression Martz can make on this team is by rehabbing their group of high-profile, low-result receivers which include Roy Williams, Charles Rogers, and Mike Williams, three consecutive first round picks. Only Roy has displayed at least a modicum of potential -- Rogers has been too busy battling injuries and apathy and Williams has proven to be fat, slow, and...well...apathetic. It got so bad last year that Scottie Vines was the team's best receiver. An undrafted free agent, Vines overachieved last year and his work ethic falls in line with Marinelli's high-motor ways. He'll enter the season as the starter opposite of Roy Williams. Mike Furrey was a receiver for Martz and the Rams, who moved him to defensive back last year, but he'll play receiver for the Lions again. He's familiar with Martz's system and might emerge if the big three continue to struggle.
The biggest issue might be the running game, where Kevin Jones suffered a big dropoff from a promising rookie year. Part of this falls on the offensive line, which has been rebuilt. The Lions also brought in TE Mark Campbell to help block. He's a standout blocker and will come in on running downs to play the strong side of a two-tight end set spelling fullback Cory Schlesinger, who's feeling the effects from a lengthy career as a lead blocker but who has enough in the tank for one more year.
The Lions have the pieces in place in defense, but they might need to be shuffled slightly and could stand to use some coaching up. Pro Bowl defensive tackle Shaun Rogers has worldly talent but needs a constant fire under his ass. Luckily, that's Marinelli's specialty. He helped the Bucs defensive line become great, and I have faith he'll do the same for Rogers. But the Lions will get the most exciting results from a pair of rookies. First rounder Ernie Sims has battled some concussion problems in the past, but he's got the tools to be a high-grade NFL linebacker. He's got the speed to get to the ball and the strength to knock the carrier down, and if he can get recognition and read the play correctly he's unstoppable. It's when he's slow off the snap or displays an error in judgement that he shows inconsistencies. He needs blockers to be kept away from him, whether it's by his own speed or by his defensive line allowing him time to catch back up to the play. Second round safety Daniel Bullocks is the second of twins to play in the NFL (his brother Josh is a safety for the Saints). Josh showed remarkable progress last year as a rookie, flashing big play ability and acting as a ball-hawk for the Saints secondary. Daniel is more of a hard-hitting run-stuffer, but has the ability to be a big-time NFL safety like his brother. He's not in the starting lineup to start the season, but Terrence Holt is hardly an institution in the secondary and should be outplayed by season's end.
What the Lions have needed most as far as I can remember is legitimacy, constancy, and accountability. Marinelli and his staff bring all these things to Detroit. They'll get the team in shape with grueling two-a-days and practices in full pads. It's this training that leads to the type of stamina teams need to win games late or hold onto tight leads. It's also this type of training and discipline that results in less pre-snap penalties and turnovers. People are on the Arizona and Cleveland bandwagons as surprise teams this year, to the point that they won't be surprises anymore. I think Detroit pull it together to win 9-10 games and win the division, dropping the jaws of those who've got the Bears or Vikings penciled in as the NFC North winner.
KYLE'S TAKE: Detroit's gonna be the team no one sees coming next year. Last year, they were so horrid that their own fans protested against them and team president Matt Millen. This year, I bet the protests will be over. They have Rod Marinelli heading everything. It gets better though. They have Donnie Henderson, former defensive coordinator with the Jets. Two years ago, the Jets made the playoffs basically on defense alone. After he was passed up for the head job in New York, he peaced and decided to set up a dominating defense somewhere else. Every Detroit sack, every hard tackle, is just Donnie sticking it to the NY front office. Watch him take an average defense from and make it the same grueling defense that the Jets had two years ago.
What compliments a good defense? An electric offense. The mastermind of the "Greatest Show on Turf," whose offense won the Super Bowl and got them there another time, Mike Martz, is now offensive coordinator. Quarterbacks Kurt Warner and Marc Bulger flourished under him. Marshall Faulk was an MVP running back under him. Receivers Issac Bruce and Torry Holt kicked ass under him. Now, Martz, who was dismissed by the Rams last year after taking a long leave of absence because of an infection of the heart and front off ice turmoil, needs to prove himself and quickly if he wants to be a head coach again. And he has the tools. He has receivers Charles Rogers, Roy Williams, and Mike Williams, who were picked in the first round three of the last four years when they should have been drafting defense. Those young receivers will kick ass under Martz's new regime, an offense that often had receivers going long and burning the secondary.
They used another first round pick in 2003 that wasn't a receiver, on running back Kevin Jones. Two years ago, he had a kick-ass season. Last year, though, he was disappointing. However, under Martz, I believe he'll start kicking ass again. Sure, Martz has been criticized for putting too much pressure on the pass, but when he's at his best, the running backs see time too.
Martz has two quarterbacks with potential to work with. Jon Kitna was Comeback Player of the Year in Cincy before Carson got his start. He has potential under guru Mike Martz. However, my favorite is Josh McCown, the #2 in the depth chart. He always showed that he was good in Arizona when he got the chance and I think Martz can make the Ivan Drago lookalike the #1 man in Detriot. And he'll be the #1 man in my heart if in a post game interview, he said "If he dies, he dies."
Detroit's got a division they can take advantage of. Green Bay isn't a threat. It doesn't look like it's Minnesota's year. And although I think highly of Chicago, the more I think about it, Donnie's defense will easy shut down the lack of Bear's offense and Martz's offense will be able to put up some points again them. This could be Detroit's division. And maybe, then, the fans will stop picketing.