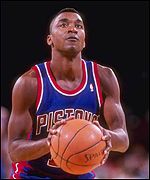 I grew up in Michigan. My team was the Detroit Pistons and the years from 1988 through 1992 made Michiganders proud. The usually lackluster Pistons had come together with a playing style that represented the working class ethic and scrappy history of our state—and it won games. The Bad Boys were reviled by the rest of the NBA and revered at home. They beat the shit out of their opponents.
But among the Bad Boys was a Nice Guy, Isiah Thomas. Standing 6'1, Thomas was a relatively small guy who had to hustle and fight through ever larger defensive players. He developed an outside shot to match his ball handling skills that gave him an arsenal that allowed him to score 16 points in 1:30 against the legendary Celtics in 1988. And he did it all with a smile, which his why he was my hero. I kept his player card in my wallet for years and wore his jersey around Chicago—where the Pistons are hated like al qaeda—to the sneers and jeers of Bulls fans who took their beatings in the 80s and early 90s like a sick dogs they are.
It turns out Isiah Thomas is like many of my heroes: a depraved pervert. He was found guilty today of sexually harassing a Knick executive and mother of three. According to Sports Illustrated, "The former Northwestern college basketball star characterized Thomas as a foul-mouthed lout who initially berated her as a 'bitch' and a 'ho' before his anger gave way to ardor, with Thomas making unwanted advances and encouraging her to visit him 'off site.'"
No word on whether Scotty Pippen will be filing his own harassment suit stemming from the abuse he took in the 1990 Eastern Conference playoffs.