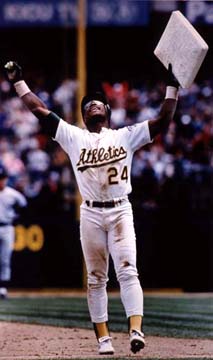 It was announced yesterday that Rick Down is out as Mets hitting coach. Rickey Henderson is in as a coach. However, he has not been announced as hitting coach yet. And I don't think he will.
Rickey Henderson was a great player. He had 114 stolen bases in a season and was one of the greatest lead off players of all time. He's already given Mets current lead off player great advice on how to read pitchers and steal bases. But Jose Reyes is not a common player. He's fast, will score a lot of runs, and steal a lot of bases. There's maybe one or two guys like him per team. But guys like Carlos Delgado, Carlos Beltran, and David Wright -- the Mets money men -- won't get the help from Henderson that Reyes will.
Rickey never had a 100 RBI season. His most has been 74. He averaged 16 homers per season, which is Reyes numbers. The Mets hope that Wright, Delgado, and Beltran hit closer to 30 or 40 homers per season. That's why it's more likely that current Mets first base coach, and former Met, Howard Johnson will become the hitting coach.
HoJo had two seasons with an RBI total in the 90s and two seasons over 100. He had three seasons with a home run count in the mid-30s and two others in 20s. David Wright loves the guy and is already hitting him up for tips. Johnson would be the best to replace Rick Down. Of course, Henderson could always help guys like Reyes with hitting and can tutor every one on the bases.
The real question here is whether the firing of Rick Down was warranted. Yes, the Mets were in an offensive slump for about a month before the All Star break, and last year their offense fizzled in the playoffs. Delgado still hasn't gotten on track this season, and Beltran had a big slump towards the end of the first half. But the Mets, under Rick Down last year, had the hottest bats in the league during the regular season and started this season scorching as well.
Manager Willie Randolph does not agree with the decision and has made it known that it was not his call. And the fact the Mets don't even have a replacement yet shows they were just trying to shake things up instead bringing in a guy who they thought would do the job better. Though GM Omar Minaya has made some top notch decisions with the Mets, this time it looks like he may have jumped the gun.
Luckily, hitting coaches are not as important as pitching coaches. Younger hitters, such as Wright, will learn more from their teachers than guys like Beltran. I expect to see Johnson as the Mets regular hitting coach as Henderson will tutor Reyes and take over as first base coach, where he'll be whispering "Steal... Steal..." into Reyes' ears.