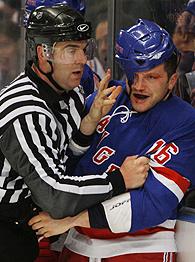 If you're a hockey player going to arbitration, you're going to need to brush up on your Daily Affirmations. It's a tough, tough process -- players do their best to convince an arbitrator of all the ways he contributes to the team, the team does its best to convince the arbitrator that said player is practically worthless. And they don't pull any punches. The player will typically exhaust the process and play one final year under the arbitration ruling, but there's a good chance bridges will have been burned along the way. To a man, they all claim to understand that "it's a business," but I'm not sure how anyone could play for a team that is willing to hit below the belt in paperwork and give them a smile and pat on the back when it's time to start playing in October.
As a Devils fan, I'm familiar with arbitration spurnings. Unkind words have driven Bobby Holik and Scott Gomez away; most people still contend that Scott Niedermayer never forgave the Devils after their nasty arbitration hearing, though Nieds stuck around for a few years. There's a rumor that the Islanders once made Tommy Salo cry. And now the Rangers are getting tough with their tough guy, Sean Avery.
Rangers coach Tom Renney repeatedly referred to Sean Avery as one of the team's most valuable components during the drive to the conference semifinals, so imagine the 27-year-old winger's surprise and anger upon reading that management called him "a reasonably effective player as well as a detriment to the team," in the team's salary arbitration brief that will be presented during today's hearing at Toronto.

"It's hard not to take something like that personally and not to be emotional about it," Avery told The Post yesterday. "I know this is part of the business, I know this is part of the process, but it's extremely disappointing to read something like that coming from Slats [GM Glen Sather] and not to be offended by it.

"They talk about me taking, 'unnecessary penalties,' and make a lot of references about me that I don't want to go into but that I don't think are fair. I certainly don't think I was a detriment to the team."
There's no way Glen Sather actually thinks Avery was a detriment to the team, anyone who watched the Rangers after they acquired Avery last season would notice that he brought a great attitude and spark to the team with his physical style, and added an offensive punch not commonly seen from a rugged forward. (To be fair, I get the impression Sather doesn't watch many Rangers games anyway). As a Devils fan, Avery is the type of guy I hate to see in a Rangers uniform. If he were a Devil, I'd be sporting his jersey to every game.
But the Rangers are in dire cap straits, and they're trying to pinch pennies. Understandable. But know where to pick your battles. Avery helped make that team surprisingly effective. They'll regret losing him after this season, when they look around and can't find any credible backbone on the roster. They should focus their cost-cutting efforts elsewhere -- may I suggest starting with that grossly overpaid, mediocre blueline?