The NHL playoffs are upon us. Tonight, the Devils start their journey towards the holiest of grails with a tilt against the Tampa Bay Lightning. I, frankly, am urinous with anticipation.
The NHL has, bar none, the best playoffs of professional sports. The rivalries, the intensity, the chance of a game ending at 3 a.m, becoming a war of attrition...there's simply nothing better. But what about the playoff beards? Other sports try (anyone remember that ridiculous red goatee on Scott Spiezio last year?), but no one can come close to hockey's glorious tradition of facial hair. It's simply unrivaled.
To show support for my Devils, I am joining them in protest of shaving. I will track both mine and the team's transplendent growth as they progress through the playoffs, as long as the Devils are still alive. Last year was notable because Colin White and Scott Gomez decided to forego the beard for some awful sideburn/mustache concoction; hopefully someone on the Devils decides to top that this year, because I'm going straight up grizzly man. Here are some photos from about a minute ago, so we can start this shit.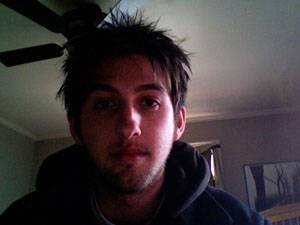 There's a straightforward shot. I haven't shaved in a couple of days, but the growth so far is unimpressive. It should be noted that I grow facial hair at the same pace of a 13-year-old, so I doubt the results get too extreme. Luckily, nothing precludes me from getting a haircut, because I look fucking awful.
The closeup: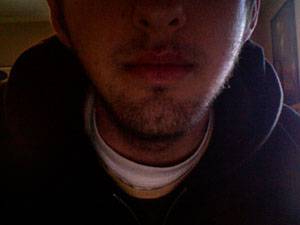 So that's where we begin. Keep it here for all of your Devils/Tom4 facial hair needs. And, as my senior year Italian professor used to say, "Forza Diavoli."

TrackBack
Listed below are links to weblogs that reference Playoff Beard:
» Another Playoff Beard from Off Wing Opinion
A few days back, one of my NHL Fan House colleagues, Tom Luongo, wrote about the tradition of the playoff... [Read More]