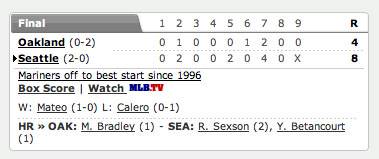 The baseball season is now four days old, and there's a lot of ball to be played this season. As is the case with baseball more than any other sport, teams will come on strong, teams will falter, players will crumble or thrive after the All-Star Break. It's a long and cruel mistress, the professional baseball season.
But that hasn't stopped the ESPN headline-scribes from getting in on the action early. Always scrounging for little factoids of interesting information, someone wrote the above headline after the Mariners beat the A's.
I know it's a monotonous, boring job writing headlines, but it's still an important role in the media. A headline grabs or turns off a reader immediately. It sets the tone for the article. That being said, is it really worth it to note that the Mariners, at TWO-AND-FREAKING-OH, are off to their best start in 11 years? Does that mean there's a hint of destiny here? If it were ten games in a row to start the year, OK, accomplishment granted.
They haven't even swept the first series of the season. Let's put the historical perspective on hold at least until teams have gone through their starting rotation once. Sound good?