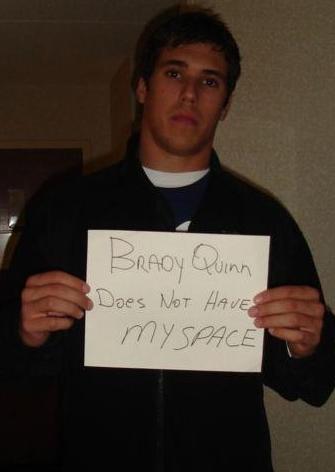 No matter what anyone tells you about the Texans' decision to draft Mario Williams over Reggie Bush, believe this one thing: it was all over money. All things being equal, the Texans would rather have had Bush, but they wanted to save a few dollars. Oakland appears to be taking the same route.
They've begun negotiations with JaMarcus Russell, Calvin Johnson, AND Brady Quinn in anticipation of Saturday's glorious draft. Quinn's name seems peculiar there, because he's never been linked to the Raiders until now. But the rumor is that Quinn will do anything to go first overall, even if it means taking less money to make himself more attractive. Which apparently is working.
If the Raiders let money become a factor in who they draft, they will never turn this thing around. You're picking first overall because you're awful. Having this pick is supposed to level the playing field, somewhat. So why muck it up by picking someone who is generally considered the 5th-10th best prospect in the draft? Al Davis has never been cheap in efforts to improve the team, so this is especially odd.
Personally, I'm of the belief that regardless of money, the Raiders should take Calvin Johnson. He's simply the best player in the draft. And judging by recent top five quarterbacks, the Raiders would be wise to avoid both Russell and Quinn this year.
Eli Manning: 73.2 passer rating
David Carr: 75.5 passer rating
Michael Vick: 75.7 passer rating