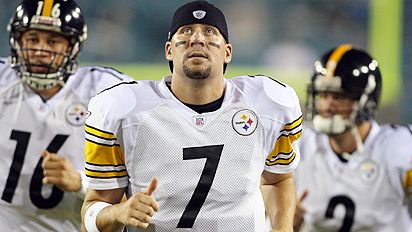 Ben Roethlisberger didn't score a single point against Jacksonville last night. Is a quarterback controversy brewing in Pittsburgh? After Charlie Batch's 3 touchdown performance in the season opener, the buzz in Pittsburgh is that Batch might take over if Roethlisberger continues to struggle.
Roethlisberger's pedestrian performance goes back to last year's playoffs, when he ended the season on a less-than-stellar note against the Seahawks. The Steelers won that game in spite of Ben, not because of him, and fans are quickly growing impatient. They also don't appreciate being lied to -- Roethlisberger didn't have a fever last night, he came up with that so it could be used as an out because he knew he was going to lose to Jacksonville, a far superior team to his. It's fitting that Dwyane Wade was at the game last night -- Wayne and Ben have had the media invent maladies for them to overcome in order to build their legends more than any other athlete I can remember. I mean, who gets appendicitis anymore? Isn't that as prevalent as tuberculosis?
As you can see from the picture above, Charlie Batch is always over Roethlisberger's shoulder. Even when Ben sleeps, Batch is there. Hovering. And breathing heavily. Look out, Ben. Charlie Batch is on his high horse, and he's coming to save the Steelers.
NOTE: The above is a work of farce. There is no quarterback controversy in Pittsburgh. This was a statement on reactionism and the media's love of stirring the pot. That is all.