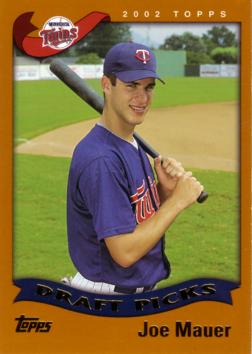 Ever since Jim Dowd became the first New Jersey born player to play for the Devils (helping them win the '95 Stanley Cup), I've had a thing for players who stay local when they go pro. When this player is a catcher, the least glorious position player in baseball, and overcomes the public perception of his position to still be picked #1 overall...well, you can't help but to root for the guy.
Despite his high draft selection, Joe Mauer has watched other 2001 draftees grab headlines -- Mark Prior, David Wright, and Mark Teixiera were all selected later than Mauer and have seen their careers blossom (and in Prior's case, falter) early. The St. Paul native spent four years in the minors and then missed most of his rookie season with a knee injury, but he's making up for lost time with a torrid pace for any major league hitter, regardless of position.
Mauer went 4-5 with a career-high 5 RBIs last night to help the Twins beat Dodgers, 8-2. After starting the season 25-33 the Twins have won 15 of 17 thanks to Mauer's hot bat and cool demeanor. He's hitting .377 for the season, including .345 with runners in scoring position and an incredible .403 on the road, and has been even hotter lately. He's hitting .388 over the last two months, and just missed the cycle last night by failing to hit a home run. Teammates like Carlos Silva rave about Mauer's ability to keep his composure no matter what kind of day he's having.
He goes 0-for-4, he's got the same face. Five-for-5? Same face. That's why he's such a good player. He's been doing a great job.
Unfortunately, the Twins haven't been able to reap the benefits of their current run, as both the Tigers and White Sox have kept winning, keeping the Twins 11 back on the division and 9 on the wild card. But if the Twins ace combo of Johan Santana (8-4, 2.75 ERA) and Francisco Liriano (7-1, 2.17 ERA) can keep giving the Twins solid innings, one or both of the teams they're chasing will start experiencing inconsistencies, letting the Twins catch up. It's my belief that the Tigers are a first-half team -- the sort, like the Nationals last year -- that gain feel-good headlines early in the season by exceeding expectations, only to come to Earth after the All-Star break. This bodes well for the Twins if they can continue to play up to their competition as they have over the last 17 games. At least they're sure they've got a legitimate blue-chipper behind the plate, a reliable hitter who at any given at-bat can explode.