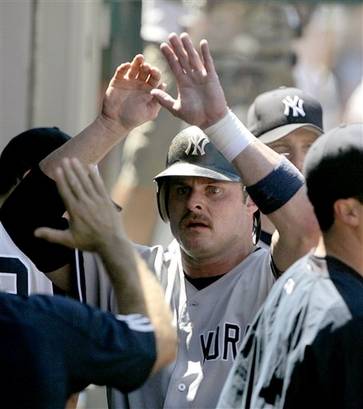 People are usually busy during holiday weekends. OK, I wasn't, but I'm still going to summarize the things going around in sports this weekend.
Let's do it.
- Jason Giambi's mustache is absolutely disgusting. Honestly, look at the thing. For awhile, Johnny Damon had a stache too -- theories are that some Yanks grew the stache for Sal Fasano, the catcher who had to get rid of his fu manchu when he came to the Yanks. However, Giambi's stache is so ugly, that other team members came to their senses, including long time stache toter Randy Johnson. I bet you Johnson walked into the clubhouse, saw Giambi's facial hair, and asked himself "Do I look that disgusting?" Then he probably went home to his wife, who jumped on the opportunity to get him to shave the thing. Thank you, Jason Giambi, for reminding us all that mustaches are just disgusting.
- Just a day after eliminating Andre Agassi from the US Open, Benjamin Becker was handled by Andy Roddick in three straight sets 6-3, 6-4, 6-3. Becker is relatively new to the tennis field, especially for age 25. How must it feel to be the guy to send Agassi into retirement? I'm sure he is proud for advancing and beating a legend, albeit a legend who is 36 and has a bad back. However, it must be hard for a guy to know that everyone out there is rooting against you. I'm sure he was mentally drained after yesterday and wasn't ready for a more dominating Roddick.
- Tiger Woods won his fifth in a row today. He was three strokes behind leader Vijay Singh yesterday, but I don't think anything believed that meant anything. Tiger owns golf.
- You have to feel bad for Louisville running back Michael Bush who broke his leg against Kentucky last night ending his season. He already had three touchdowns and the Cardinals were not going to lose that game. However, the game was still early and you shouldn't blame the coach for letting the man play. He was a possible Heisman candidate and would be entering the draft as a possible first round runner. Now that's all screwed up.
- Everyone is down and out on the Red Sox, and understandably so. But they're only 6.5 games out of the wild card and they're getting Trot Nixon and Jason Varitek back tonight. Big Papi should be back tomorrow. I think that will give everyone an emotional lift and of course, a big offensive improvement. There's a month left to play and 6.5 is not impossible.
- And some sad news this weekend. The Crocodile Hunger Steve Irwin died from a stingray sting. Although he went doing what he loved, it was too soon. We offer our condolences to his family.